View of Brays Oaks Greenway in construction.
New Brays Oaks

Harvey was the most significant tropical cyclone rainfall event in United States in scope and peak rainfall amounts. Located at the intersection of Brays Bayou and Keegans tributary and major freeways, Brays Oaks was severely affected by the unprecedented hurricane. The excessive engineering of the bayou frontage and the misalignment of the hydrology plan and the city fabric have long hindered the architectural solution to Houston's flood problems. With a majority of its building structures approaching the end of its life cycle, the status quo of Brays Oaks invites a renewal.

The project proposes a phased strategy in which buildings can be relocated from the 100-year floodplain to a new development built with resilience. With the three highgrounds identified from the floodplain contour of the neighborhood, the development of the new resilience district reclaims the floodplain and repopulates its periphery with multifamily and mixed-use building groups. Using the Southeast island of Brays Oaks as the primary site, the intervention takes the form of an offset between the flood zone and the safety zone, bridging the new greenway to the existing environment.
Brays Oaks residential land use and hydrology plan.
Project phasing plans.
The checkerboard configuration of the plan enables constant juxtaposition between dense inhabitation and open greenery, both key features to quality living with lower carbon footprints. Both the phasing strategy and programmatic distribution are developed in East-West bands interfaced with pedestrian corridors. These corridors link up the array of buildings and landscapes and generate an integrated circulation with the greenway and the existing single family neighborhood.
Form searching catalogue for residential, commercial, and institutional buildings.
Form pairing and aggregation to generate streets with different densities.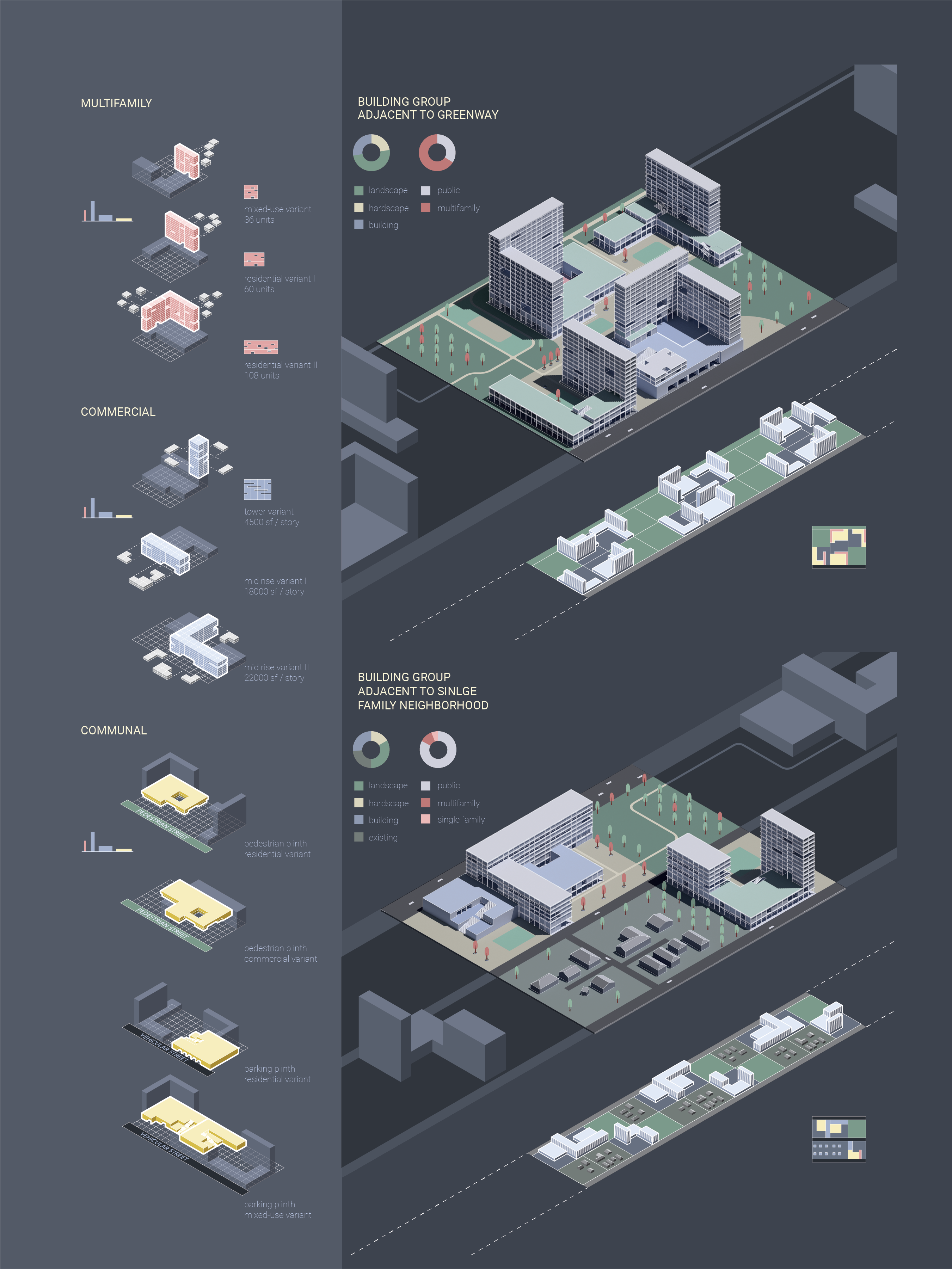 Residential and public quadrants in detail.
Overall axonometric.
View from a residence to greenway.
View from pedestrian corridor.
View from communal terrace.
View from vehicular corridor.